Last night I had dinner with a couple of friends at Pizzeria Mozza, the masterfully crafted brainchild of super celebrity chefs Mario Batali and Nancy Silverton. I've been to Mozza twice before but was never super impressed with the food. My body and taste buds must've been off the first two times because last night's meal was absolutely delicious. We started off with the butternut squash bruschetta, which was a flavorful combination of creamy sweetness and savory crunch.
We then moved on to one of the best caprese salad I've ever had. The super fresh burrata was topped with pesto sauce and the most delicious roasted cherry tomatoes. Thick slices of garlic bread drenched in olive oil served as the accompaniment.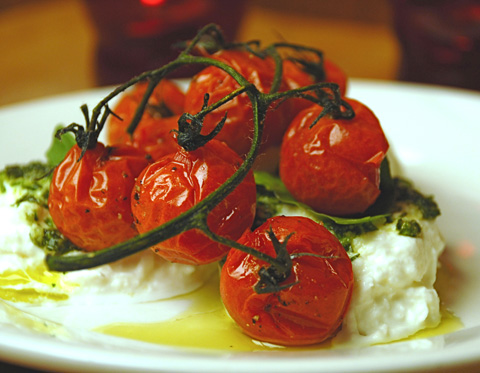 We ordered three pizzas: fennel, salami and funghi. My favorite was definitely the salami. The homemade marinara sauce was absolutely perfect and overpowered, in a good way, the flavors of the other two pizzas.
We were pretty stuffed after the pizzas but our very persuasive server convinced us to get the Butterscotch Budino, a delectably sweet and rich Italian pudding that was so worth the extra calories. He hailed it as the best dessert in LA. I almost agree with him!
Dinner at Mozza is not complete without the requisite celeb sightings. In the past, I've spotted Jimmy Fallon, Anna Faris and Sabrina the teenage witch there. This time, both Jesse Ferguson (he plays Mitchell on Modern Family) and Jennifer Love Hewitt were sitting at different tables close by. Jesse pretty much looks the way he does on the show and appeared to be on a date with a tall, dark and handsome type. Jennifer was drop dead gorgeous! Her skin was glowing, makeup was subtle and she was radiating her melt-your-heart trademark smile.
Great friends, amazing food and a few drizzles of celebrities...Thursday nights in LA can be pretty fabulous!