I went to a business lunch at Craft Restaurant in Century City today. Although it was my first time at Tom Colicchio's steak and seafood restaurant, I've been wanting to go for quite some time. I was impressed by the decor-clean lines, natural light, modern paintings, and striking greenery.
The food made my day. Both starters, the gazpacho and the arugula salad were market fresh and refreshing. For the main courses, we shared the dry aged ribeye and the diver sea scallops. The scallops were a bit too salty for my taste, but the ribeye was out of this world tasty! Each bite of the tender meat was perfectly infused with savoriness. We also ordered a bunch of side dishes with my favorite being the oyster mushrooms. For dessert, we sampled the pecan almond cake, the blackberry pie and the sweet corn ice cream. The ice cream was divine and did not taste like it was made from a vegetable.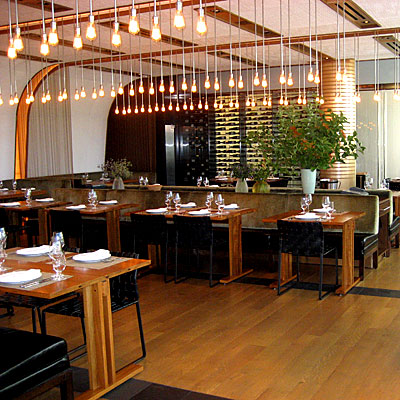 Towards the middle of the lunch, I realized Sarah Michelle Gellar was sitting at the table right next to us. She was wearing a cute navy blue lace dress and was having lunch with a guy, an agent looking type. Although I couldn't hear the specifics of their conversation, I did pick up on one thing. Sarah Michelle talks fast and talks A LOT! In fact, she probably contributed to 90% of the conversation. I also noticed the girl is very tiny. Not anorexic tiny or anything. She just has a very small frame. Oh, and she's super cute!
Today's lunch was definitely a nice workday break!