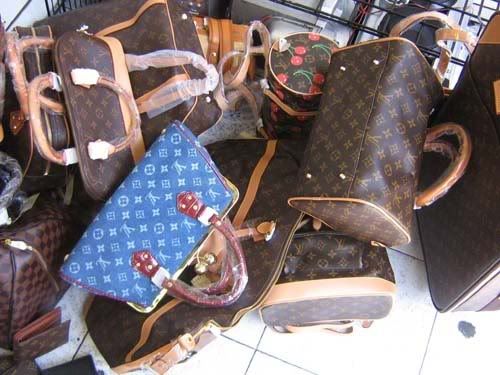 On Wednesday, July 14th at 9PM ET/PT, CNBC, First in Business Worldwide, presents "Crime Inc.: Counterfeit Goods," a CNBC Original reported by CNBC's Carl Quintanilla that takes viewers inside the largest underground industry in the world. Counterfeit goods bring in hundreds of billions of dollars a year while sapping the economy, putting lives in jeopardy, and funding organized crime in the process.


The documentary takes viewers on exclusive raids with the LAPD anti-counterfeiting unit. The undercover officers work tirelessly to make sure every detail is perfect before moving in. The goal of these sting operations is not only to capture the suspects, but also to reveal where the counterfeit goods are produced and stored.
Roughly 20 million shipping containers arrive at the U.S. borders each year—almost 60,000 containers each day. U.S. Customs and Border Protection have the arduous task of processing each one. CNBC cameras are given a rare look inside their operation and viewers will see the inside of an enormous warehouse at an undisclosed location where the department stores confiscated goods as evidence. CNBC speaks with Robert Perez, Director of Field Operations for C.B.P., who walks CNBC through the more than $200 million dollars worth of seized cargo.
At around 7% of all global trade, just about anything and everything you buy could be a cheap or even deadly counterfeit. Among the most lethal counterfeits are medicines. Imposter products including cough syrup and baby formula have killed thousands worldwide…and the death toll continues to rise. And, with patients using the Internet to find deals on pharmaceuticals the risk is even higher. In fact, according to the World Health Organization, more than half of all drugs purchased from unregistered online pharmacies are counterfeit. CNBC introduces viewers to a couple who was paralyzed by a nearly fatal dose of counterfeit Botox.
In addition, CNBC looks at a company whose entire brand was copied when Chinese counterfeiters created an imposter line of New Balance shoes as well as the story of a defense contractor whose counterfeit defense parts found their way into weapon depots in Iraq.
I'm looking forward to seeing this as I work with these enforcement officers on a regular basis and have attended raids in the past. Hopefully, the documentary will raise public awareness on the serious social, political and legal ramifications of buying counterfeit goods.